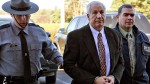 Of all the child sex abuse allegations levied against retired Penn State football coach Jerry Sandusky, none perhaps is more disturbing than the report that he used his non-profit foundation Second Mile to gain access to young boys — not only for himself, but for donors to his organization.  Sexually assaulting children is by itself a monstrous act to contemplate; the idea that they may be pimped out to others is nearly unfathomable.
Yet to hear the mainstream media report it might lead one to believe that the problem of child sexual slavery is reaching horrifying levels in the U. S., and while it's certainly not something to be ignored, it's also not the "epidemic" the alarmists — and especially law enforcement — have portrayed it as.
One example of this media-fueled hysteria is a report released in September 2010 by the Women's Funding Network, which earned them a national spotlight, not to mention an invitation from a House subcommittee, before which WFN chief program officer Deborah Richardson breathlessly warned that child prostitution was "exploding" in the U. S. — anywhere from 20 percent in New York to 65 percent in Minnesota.  Lock up your daughters!
The study focused in particular on classified ad sites such as Backpage.com and Craigslist, whose adult sections, it claimed, were enabling the rapid expansion of the child sex trade.  Craigslist succumbed to pressure brought by numerous U. S. Attorneys and closed its adult section, but The Village Voice, whose parent company owns Backpage, decided to do its own review of the study, and found it was based on looking at the pictures of girls in sex ads on the Internet — and making assumptions that a certain percentage of those ads must be for underage sex workers.  There was nothing remotely scientific about the data acquisition or methodology; the research group almost literally made up most of the data.
Despite its questionable methods and conclusions, the study's findings blew across the media landscape like a summer wildfire.  Its numbers were reported without any critical analysis in papers such as USA Today and the Detroit Free Press, and cited by actress (and sex trafficking activist) Demi Moore, whose Web site still links to the WFN study.
None of this means that the child sex trade doesn't exist, or that there aren't a lot more Jerry Sanduskys lurking out there.  But it does mean that publicizing bogus studies without any critical context can lead to bad policy decisions by lawmakers and law enforcement agencies.  And we end up with Megan's Law and Jessica's Law and the Adam Walsh Act and other ill-conceived laws, all named after dead kids to make them seem critical to civilization's continued existence, and not the further expansion of state power that they really are.
The air had barely escaped an Orlando courtroom following the Casey Anthony trial, in which she was found not guilty of murdering her two-year-old daughter, before an activist began pushing for a "Caylee's Law", which would have made it a felony for parents not to report a missing child within 24 hours.  It is precisely during these times of high emotion, when sensationalized cases of crimes against children make headlines and inflame radio personalities, that such laws should not be considered.  For they often serve only to increase the power of the police state without doing much to protect their intended beneficiaries.  Politically popular and emotionally resonant they may be, but dead kids make for bad laws.
Raising awareness of social ills is important, but so is truth and justice, and the media serve neither when they engage in reporting that looks less like responsible journalism and more like alarmist propaganda for an ever-encroaching state.