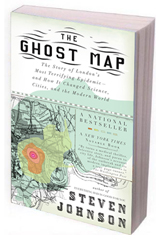 I first heard of Steven Johnson's 2006 book The Ghost Map from a George Will piece called "Survival of the Sudsiest." The book's full title is The Ghost Map: The Story of London's Most Terrifying Epidemic — and How It Changed Science, Cities, and the Modern World. Will describes it as "a great scientific detective story about how a horrific cholera outbreak was traced to a particular neighborhood pump for drinking water."
In the "The Books of Summer" (Liberty, July 2007), Bruce Ramsey also recommends it:
It tells the tale of the deadly outbreak of cholera in London in 1854, and how two men, a doctor and a preacher, proved how it was spread.… In parallel to the detective story is a revolting description of London in the early industrial age. The industrial revolution made London the earth's largest city with the earth's largest waste problem. Libertarians will note that market mechanisms did arise to handle this, though they were, in the author's estimation, not so good. They will note that the first solution imposed by government made matters worse — but that the second one was better. The book also shows how the provision of sewers and a clean water supply ended cholera epidemics by the last quarter of the 19th century.
I'm finally getting around to reading The Ghost Map, and while it is compelling and enjoyable from the first page, it is also an excellent example of why it helps to have some economic literacy to be able to read popular history critically.
Both Johnson's masterly prose and his questionable economics are evident from the first. Here's his opening:
{ 3 comments }