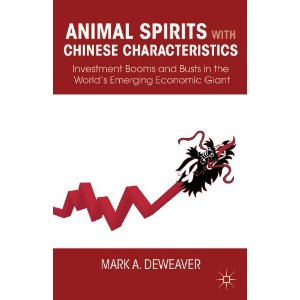 There are certain books in life that upon reading them you think to yourself "I feel not only smarter but this is exactly the book I would like to have written."
And that is in summation what Animal Spirits with Chinese Characteristics embodies.  It is written by nine-year China veteran Mark DeWeaver, now the hedge fund manager of Quantrarian Capital Management in Washington DC.  In addition to having worked as a broker and financial analyst in Guangdong (the most populous province on the mainland) and Hong Kong, DeWeaver received his PhD in economics from the University of Hawaii.  The title alludes to the 'animal spirits' invoked seventy-five years ago by John Maynard Keynes to describe how emotions influence human behaviors.  The other part of the title comes from Deng Xiaoping's "reform and opening up" (改革开放) liberalization process that began in 1978 – what Deng called "socialism with Chinese characteristics."
One of the shortcomings of many China-related non-fiction books today is that they generally try to discuss something that is impossible to penetrate: how and why the Standing Committee makes decisions.  Volumes have been and will continue to be written about the purported inner workings of Zhongnanhai (中南海), the Party headquarters in Beijing, yet this amounts to little more than the modern-day equivalent of Kremlinology.  Or as the popular and fitting English expression germanely (sic) describes this seemingly futile divination activity: trying to read the tea leaves in China (tasseography).
Animal Spirits is nothing like these quickly outdated books and will arguably be timeless in part because of its methodological approach.  While he uses dozens of empirical examples to illustrate the boom-bust cycle within China, DeWeaver's epistemology is unique in that it utilizes the deductive strength of the a priorism of the Austrian School.  The Austrian School is perhaps best known by one of its thought-leaders, Ludwig von Mises who wrote Economic Calculation in the Socialist Commonwealth nearly a century ago.  In it, Mises explains that central planners, within a closed economy cannot rationally calculate or allocate resources in an efficient manner; that without organic prices an economy will stall and even deindustrialize.  And since prices only arise from market interaction between participants (entrepreneurs, investors, suppliers) we as observers can a priori reject central planner claims to theoretical success without having to actually implement them to see if they could indeed work.  That is to say, central planning a priori cannot work because of the calculation problem.   Consequently, dozens of books have been written about how and why both the Eastern Bloc and Soviet Union collapsed largely due to this inability to rationally calculate, yet very little has ever been written about the Chinese experiment especially from the 1949-1979 time period.
The sole focus of the book is an analysis of both the economic and financial systems within mainland China since the founding of the PRC in 1949.  And despite the aforementioned Sino-centric tomes being published at a steady clip, surprisingly very little has been written about this financial area; and that is our loss.  In fact, the English-based scholarly corpus regarding the Chinese business cycle is almost non-existent.  The reason is simple: you need to be a trained economist, fluent in Chinese and capable of rigorous analysis.  Just as there were only a handful of potential scholars capable of writing The Last Knight of Liberalism (e.g., need to be German-speaking, trained economist, familiar with historical documents) so too are there few capable of pouring through both the modern Chinese financial press but also to look through the historical record.
And that is where Animal Spirits shines.
For example, one of the assumptions is that nationally developed central plans promoted in Beijing – Five Year Plans (中国五年计划) – are followed and executed in a classical top-down fashion.  That there is a monolithic entity capable of devising and controlling cogs and chess pieces down to the county level.  Yet, in Chapter 2 DeWeaver notes that "[i]n the Chinese case, central planning has not even been carried out consistently."
Specifically,
In China the problems with central planning were exacerbated by the devolution of investment decision making authority to lower levels of government.  This made economic coordination even more difficult and produced powerful incentives for overinvestment.  Ironically, some of the very instabilities the revolution was supposed to eliminate became more extreme.  Transferring ownership of the means of production to the state resulted not in a new age of rational resource allocation, but rather in an exaggerated version of the capitalist cycle.
For instance, in areas like steel, cement, coal and other commodities, there are state-owned enterprises that are championed by local governments.  In the case of steel production, as part of the Great Leap Forward, each county and locality was encouraged to smelt ore and scrap ingots to produce metals based on mandated quotas at a variety of administrative levels.  The end result was denuded forests (for use as a smelting energy source) and what is now termed as 'oversupply.'  Since all localities were smelting irrespective of profit or loss, enormous output took place and continues to take place – China currently produces and consumes about half of the world's steel.
 And after decades of championing these local steel mills, despite decisions at a national level to consolidate or in some cases to allow market forces to bankrupt inefficient mills, local policy makers continue subsidizing them due largely to the perceived integral role the mill has in the community (e.g., jobs).  While allowing them to close and consolidate would bring volume efficiencies in terms of economies of scale, from a local policy maker point-of-view there are a number of consequences and side effects that they would rather not deal with.  As a result, provincialism is rampant across the country – there is no unified harmonized market like there is in most of Europe or North America, making it prohibitively costly and time consuming for both foreign and domestic businesses to expand operations across the country.
 Or as DeWeaver aptly notes:
 The emphasis on regional self sufficiency led inevitably to local protectionism.  Local governments came to be evaluated on the extent to which they could independently produce various categories of products or even generate surpluses for "export to other localities" (Donnithorne, 1972, 610).  Protecting markets for local light industry was also desirable because high retail prices were often necessary in order to subsidize inefficient small-scale heavy industry (616).  Thus, in 1970 the Changchun Number One Department Store "exclusively" sold "light industry products" made in Jilin Province (Changchun being the provincial capital).  Shanghai and Tianjin "claimed record shipments of their own products to other parts of the country" (611).  Hubei Province even had a program to grow all its own sugar (609).
Thus, China developed into a "customs union but not a common market," with "a common barrier against the outside world" but without "free trade within its national boundaries" (618-619).  In the absence of either markets or effective central planning, the economy fragmented into "a myriad of small discrete units" (605) while the ideology of self-sufficiency became an excuse for local-level mercantilism.
And as noted above, some of much of this provincialism continues today in markets such as tobacco, Chinese wine (baijiu) and even in areas of skilled human labor.  For example, nearly every semester a number of my students will travel outside of the college or school to attend job fairs in neighboring regions.  There is always at least one or two that come back frustrated and focused because they have been told that the job fair is only open for people from that province.  In fact, one of my expat friends has a wife from Anhui who traveled to Nanjing to attend a fair and was told "no outsiders."  And when I lived in Guangdong (Canton) a number of Chinese friends from other regions of the mainland explained that they faced various levels of discrimination due to being an "outsider" (e.g., speaking Putonghua instead of Cantonese).
Booms and busts
Another epistemological strength of the Austrian School is its inherent deductive capability to predict and asses the consequences of certain economic policies.  In particular the boom-bust cycle (or business cycle) describes the relative scarcity of credit in a financial system.  For example, if credit – which is typically managed by central banks and central planners – is loosened and made "cheaper" (e.g., subsidized), activities that were previously cost prohibitive now become relatively easier to finance.  Yet when the credit tap is proverbially tightened, many of these same unsustainable and unprofitable ventures go bankrupt as part of the market purge known as a "bust."
And in China, economic laws are as immutable as in the rest of the world, as DeWeaver explains:
Central planning never worked as advertised in any of the countries where it was tried.  Even under ideal conditions it would never have been possible for central planners to identify optimal allocations of scarce resources.  It is unlikely that any such allocations could be realized in any case.  With decision makers' incentives skewed by expansion drive and soft budget constraints, it is probably inevitable that socialist economic management is driven primarily by political considerations.  Investment booms and busts have been the result.
In the Chinese case, these problems were compounded during the command economy era by attempts to limit the role of central planning itself.  With Chairman Mao's great principle of self reliance as the watchword, lower-level authorities enjoyed a degree of autonomy that made it practically impossible for the central government to coordinate economic development.  Even the Third Front, where many of the projects were national priorities, was not immune.  The result was a pattern of decentralized boom followed by centrally imposed bust.
In an inversion of Keynes' assertion, the Chinese experience shows that "the duty of ordering the current volume of investment" cannot safely be left solely in public hands.  Government entities are, if anything, even more at risk of possession by animal spirits than private-sector companies.  They almost invariably tend to prioritize ideological or political considerations over cost-benefit calculations.
Yet as any China-watcher can attest, while these boom-bust cycles still continue, they have changed in nature.  Instead of having wild swings in agricultural productivity (due to credit to specific farms or agricultural segments), as China has developed over the past three decades, the booms occur in other areas.
For example, large portions of the manufacturing sector (e.g., textiles) that focus on exports receive perks and subsidies from nearly all levels of government, creating an unsurprising boom in production:
In each case, the booms were driven primarily by local governments while the busts, as had generally been the case ever since 1949, were brought about by central government policy.  At the same time, as product markets were introduced and the economy gradually became internationalized, inflation and trade deficits began to replace agricultural shortfalls as the primary constraints on investment.  These problems became less severe as high rates of accumulation along with productivity growth resulting from the economic reforms led to excess capacity.  This in turn generated both disinflation and a steady improvement in the balance of trade.
This is not to say that private companies are not guilty of waste, inefficiencies or miscalculation.  For example, in the US 56% of all start-ups fail within the first 4 years.  Each week the business press highlights both successes and poor investments made by entrepreneurs.  Three notable misallocation examples that come to mind are the Itanium project by Intel which was supposed to replace the x86 line of CPUs ten years ago, yet despite billions in investment it has gained negligible traction or marketshare.  In April 1999 Mark Cuban (now owner of the Dallas Mavericks) sold his internet company, Broadcast.com to Yahoo for $5.7 billion in stock.  The site fizzled and no longer exists.  And in November 2012 HP took a $8.8 billion write-down on the value of a company (Autonomy) that it had purchased in 2011 due to overstated revenue by Autonomy's management team.
Yet as DeWeaver explains in Chapter 8, under a market-based economy one of the advantages is that 'creative destruction' (originally described by another Austrian, Joseph Schumpeter) the process of purging unproductive or misallocated assets can not only take place, but also take place at a faster pace than it would in a command economy of perpetual bailouts.  For example, at the turn of the 20th century, the horse-and-buggy industry employed tens of thousands of laborers in the West.  In 1900, the US industry alone employed 109,000 carriage and harness makers.  And with the advent of the automobile these workers were effectively handed a collective pink slip, yet many of these laborers were reabsorbed back into the overall economy remaining a footnote in history books.  Yet in China, bankruptcy is warded off through the aid of patronage networks:
 This state of affairs is unlikely to be preferable to the "creative destruction" that takes place in a private enterprise economy.  Political competition in China is not normally rooted in economic issues.  While power struggles like the one that followed the Sixteenth Party Congress put many investors out of business, the threat of bankruptcy creates much stronger incentives to avoid overinvestment.  When the CCDI is the disciplining force, staying on the right side in factional struggles will be more important than optimizing resource use.  Investors with the strongest patrons will not necessarily be those with the best projects from a social welfare point of view.
Economic domination
Despite three decades of reform and privatization, an estimated 110-150,000 state-owned enterprises still exist in China contributing to roughly 62% of the GDP.  And at one point prior to Deng's reforms that number was in the 90th percentile, in fact in 1995 there were 1.2 million SOEs.  Yet arguably a level of 100% never occurred even during the height of the Great Leap Forward as it would have meant every economic producing activity including human action itself would be owned by the state (e.g., slavery), something that has not legally occurred since just before the Qing dynasty collapsed (e.g., as Marx defined in Das Kapital, in a socialist system the means of production are in the hands of the state).  Consequently, these reforms illustrate the productive power of market forces and coordination, as the GDP of China increased from $10 billion in 1978 to over $7 trillion in 2012.
Yet because much of the economy is still dominated and controlled by the state, most decisions are left to local officials and policy makers (e.g., the vast majority of SOEs are owned and operated at the  local level).  However, any person in this artificial position – irrespective of culture, education or locality, will be left with little more knowledge to rationally calculate than the next.  The reason why is what DeWeaver weaves throughout the book, it is a case of the Hayekian "local knowledge problem."  (Frederick Hayek was another Austrian economist and contemporary of Schumpeter and Mises.)  What this means is that because all information is currently distributed among individuals spread across any superficially defined region, there will always be some information and data missing from the datasets collected by central planners (Leonard Read illustrates this in "I, Pencil").  The only conceivable solution to this knowledge problem and one that planners have been trying for a century to accomplish is to create an omniscient computer system capable of total awareness of all information at all times, simultaneously.
However even in the event of having this knowledge, assuming that such a machine could be built, planners still are left with the calculation problem: they may have every datum imaginable, yet they still do not know what actions are profitable or which activities may end in bankruptcy.  And thus any action they decide to make, while seemingly educated and 'scientific' is in fact arbitrary.  In contrast, the only planners per se of market-based economies are entrepreneurs who fundamentally only need to collect a single data point: prices (e.g., once a price is known and discovered rational economic coordination can take place).  In doing so they can rationally allocate resources and conduct business transactions or after doing market research decide simply not consume capital at all; preferring to forgo capital consumption today by investing in higher-order goods (e.g., factories) that require long-term periods of illiquidity (yet offer higher returns on investment).  This last point is called capital 'roundaboutness' (e.g., the time preference usage of capital) and originally comes from another Austrian economist, Eugene Böhm-Bawerk, the instructor of Mises and Schumpter (Hayek studied under Friedrich von Wieser the brother-in-law of Böhm-Bawerk).
DeWeaver also touches on a tangential issue, one that Mises and other 20th century economists wryly explained: that central planners in command economies need to continuously collect reams upon reams of statistical data to accomplish an inherently futile task – productively and efficiently coordinate economic activity as noted above.   There is an old economic joke used during the Cold War noting that the Soviets would absorb and expand to cover the entire globe, except New Zealand.  New Zealand would be left alone so that market activities would create prices, prices which Soviet planners could then input into their models and equations.  A similar story comes from economist Gordon Tullock who visited Gosplan (the top planning administration in the Soviet Union) and discovered that planners were using an old Sears Roebuck catalogue to price their wares.  But the inherent problem with their approach (whether the story is true or not) is that all such prices reflect the local inputs that created them; thus the Sears prices are only relevant to the US and do not reflect the local conditions, the local inputs in the Soviet Union.  Or as Bruce Barton once quipped, "the easiest and most effective way to fight the Cold War would be simply to swamp the USSR in Sears catalogs."
And Chinese planners, as educated and enlightened as they may be, are fundamentally faced with similar calculation constraints.  Compounding this issue is that local officials are motivated to maximize GDP growth irrespective of sustainability or profitability and also have 'soft budget constraints.'  'Soft budget constraints' is an economic term coined by János Kornai, a Hungarian economist that DeWeaver cites several times throughout.  Among his other academic contributions Kornai explained that the planners of command economies in the Eastern Bloc had created chronic 'shortage economies' through the pricing mechanism.  That in retrospect, the relatively low prices set by planners incentivized increased consumption by consumers and thus vast amounts products – both consumer and producer goods – were continuously in short supply.  In other words, when you intentionally or unintentionally subsidize an activity, demand may eventually outstrip the supply of it (e.g., lower prices send a signal to consume rather than save).  In the case of all the Eastern Bloc, the Soviets and even Chinese experiments with artificially price fixing the end results are long queues that are now immortalized in iconic black-and-white pictures.
Booms and busts
And because each county and each province is actually overinvesting (or malinvesting) in their SOEs, this gives rise to collective investment booms in a variety of market segments.  While the traditional boom-bust cycle scholarship investigates the causality of interest rates relative to monetary and credit expansion (there is also a corresponding component in China), what DeWeaver illustrates in each chapter is how central planners and policy makers at each administrative level spur unsustainable booms based on a plethora of plans including to meet GDP quotas or to fulfill a part of the overall Five Year plan.  For instance, these booms as noted above can take place in what Lenin termed the "Commanding Heights" (e.g., heavy industries) or in other areas such as infrastructure development like high speed railroads, highways, stadiums and airports.  For example, in Chapter 9 DeWeaver cites more than a handful of such projects including:
Consider the city of Fuyang in Northeastern Anhui Province, for example.  Located in a relatively remote location in one of China's poorer interior provinces, the city originally had only a small landing field for flights to Hefei, the provincial capital.  In the 1990s, the local government decided to "raise the city's profile" by building an international airport.  The original airport's 400 meter runway was expanded to 2,400 meters (long enough for commercial flights to most Asian destinations) and a 7,200 square meter terminal and other amenities were built at a total cost of 320 million yuan (Wang, 2002).
In 2004, after being open only a year, the new facility had to be closed because there was not enough traffic to keep it operating.  While it was finally reopened in 2008, as of the beginning of 2011 its website showed only three flights a day.
When I taught in Anhui last year I asked several students from the area if they had ever used the airport.  They said it was more practical to use the large train station because the airport only had flights to just a couple of cities (Beijing and Shanghai) during the day.  While there is potential growth due to the population size (Fuyang itself is either the 1st or 2nd largest county in Anhui depending on which areas are included), this represents an unproductive asset that would probably not have been built in this location or time frame if left to market forces.
Is this an isolated incident and just a rare exception?  No.  According to the Financial Times, in 2010, three fourths of all airports in China lost money.  In 2011, of the 180 civil airports in operation, more than 70% lost money.  In fact, based on research from Li Xiaojin, an airport in China needs to handle 1 million passengers a year in order to turn a profit.  Yet according to his estimates, 80% of airports do not hit this mark.  And according to the Civil Aviation Administration of China (CAAC), these losses last year amounted to more than $314 million.
Reimposing economic rationality in China historically requires central government intervention because of the disconnected incentives at the local level (i.e., biting the hand that feeds you), which consequently leads to purges and busts.  Thus the Chinese investment cycle is entirely different from the cycles described in conventional business-cycle theory.  It is not driven by mistakes or miscalculations on the part of private-sector investors because their role is substantially diminutive (representing roughly 1/3 of GDP).  It also does not really have anything to do with money creation by the central bank although this can exacerbate the systemic issues as state mandated lending quotas are excised through state-owned banks.  It is instead essentially a continuation of the same investment cycle China had during the command economy period.
Conclusion
This is not to say that the Chinese growth story is over, that it will collapse and we will have to find a new labor source to make our athletic shoes and smartphones.  Rather if anything DeWeaver's manuscript illustrates that despite what the market has 'giveth' central planning inadvertently (axiomatically) 'taketh' away.  China will most assuredly endure either way, yet for perhaps the first time the English-speaking world now has a usable corpus to use and later stand on (e.g., nanos gigantum humeris insidentes) in expanding the financial and economic scholarship of the Middle Kingdom.
[Note: Animal Spirits is available starting December 24, 2012]
See also: TLS interview with Mark DeWeaver  and an excerpt from Chapter 1