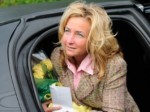 Last Tuesday, Tonya Craft's horrific ordeal at the hands of a morally bankrupt judicial system came to a merciful end, as a Catoosa County, Georgia, jury found her not guilty of multiple counts of child sexual abuse, including charges that she molested her own daughter.  The case against Craft was a mountain of lies; virtually all of it was constructed from testimony by the alleged victims, all of whom were of preschool age at the time the assaults supposedly took place.  It became clear during the trial that counselors at the Child Advocacy Center had pestered the children with questions until they offered up whatever "evidence" the state needed for its case.  The prosecution's inability to specify any details of the assaults, combined with ethically dubious behavior by the prosecutors and presiding judge (who did not recuse himself despite having represented the defendant's ex-husband in their divorce proceedings), eventually led to an acquittal.  Craft is free, although she has much to do to rebuild her life; she lost her job, her house and custody of her daughter following her arrest two years ago, and her family had to raise half a million dollars for her defense.
Now Catoosa County District Attorney Buzz Franklin blames not his spectacularly inept and unethical prosecution team for the case's failure, but the jury, biased media coverage, and the internet(s):
I was disappointed with the verdict in the Tonya Craft case.  The State presented a strong and compelling case to support a conviction, however, the jury chose to acquit her and we must accept this decision.  Unlike a defendant, the State has no right of appeal.  However, we need not agree with the verdict.
In most cases, the media strives to present their coverage of criminal trials in a fair and even-handed way that serves to inform the public.  In this case, a number of local reporters openly took sides and heavily slanted their coverage in favor of the defense.

Combined with the dynamics of the internet blogosphere, it created an environment hostile to the State's ability to receive a fair trial and portrayed the victims and their families in a false and negative light.  This was an integral, purposeful and shameless part of the defense strategy.
The "dynamics of the internet blogosphere" appears to be a reference to bloggers who have covered the trial since its beginning, namely Bill Anderson who provided in-depth coverage on his blog, and Jacob Sullum who wrote for Reason's Hit & Run.  Franklin's statements would only make sense if the jurors had been reading media coverage, which of course they had sworn not to do.  If he believes the jury was tainted, he needs to investigate immediately and not just whine about it to the public.
{ 1 comment }